HOME > Cuba
Cuba

13 days , Dec'11
---
INTRO CUBA

Kind of travel:
Me and my wife Elisa in an independent travel

When:
23th April'12- 01th May'12

Do I need a visa:
No, but there's a Tarjeta Turistica that you need to have. (I don't know if you can buy once landed); I bought at the airport in Milan (25€), but it's not clear how is the standard procedure (see here)


How many km:
1900km


How I moved:
The bus company dedicated to the foreigners (called Viazul buses) is the only choice since you'll not manage to buy the tickets of the Cuban bus company (Astro). There's a railway along the whole country, we tried to buy the ticket, giving up after half day for the crowd. Taxi is the only mean of transport to access Major resorts (as Cajo Santa Maria).

Freezing or baking:
Colder than expected 20-25C, since often cloudy; a good weather for backpacking but not for sunbathing. However this is the best season for Cuba given the hurricane risk in July - August and the chilly temperature (15 C) in December- January

Where I slept:
In Casa Particulares, namely private houses renting a room: you'll find plenty of them, with fixed prices (24€), and for 2 days we stayed in a boring resort in Cayo Santa Maria that had nothing to do with Cuba. Generally forget hotels, they are few (manly in Havana) and expensive.

What I liked:
The friendly, clean and original Casa particulares (a rented room in a house): the dream of every backpacker since the best way to enter in contact with Cuban families. The 50's atmosphere of Havana with the sidecars, rundown buildings,....a movie set feeling. The last but not the least the safety of Cuba, letting you to feel tranquil even in the heart of the night

What I disliked:
the lack of freedom when it comes taking the Cuban means of transport: the bus company for foreigners Viazul has good standard but quite unfrequent (Santa Clara- Havana: 2 bus per day!). Buy a train ticket and get the train is a challenge and the all inclusive resort where we spent 1.5 day had nothing to do with Cuba (and it was boring like hell)


How much daily:
Double room in Casa Particulares in Havana 30CUC (24€),- outside Havana 25CUC (20€), eating in Havana nice restaurant (ie: Nando: 15CUC (12€) pp); since there's no way to take a shared taxi, the private ones might became a cost especially to reach the resort in the Cayo's (Santa Calra- Cayo Santa Maria (40 CUC (30€). In total the daily budget: 70 CUC pp (53€)

What you do need:
don't forget the tarjeta turistica before arrival (call your air carrier for info) and the health insurance since it's mandatory (from may2010) to show proofs of having one with a company recognized by Cuba at the airport (I didn't hAve and nobody asked anything to me)
---



IMPRESSIONS OF CUBA

First of all I'm warning you: Cuba it's not really a place for backpackers since foreigners are forced to turistic channels feeling always a kind of cut out the Cuban reality. Apart of the Casa Particulares won't be that many the chances to get in touch with Cubans. You will fell the country lives of turism and they need your euros, this might spoil your mith of the Cuban revolutionary society.
Having said it Cuba is a must for the curriculum of a traveller since its past makes it a unique destination. There's no doubt that Fidel, the LIDER MAXIMO, really believed in the revolution and in the possibility to set up an ideal society: education and health sistem free for everybody, and no forced overconsum to substein the overproduction typical of the western countries. We can discuss if and why such dream failed however if you travell there, and don't just get your bat tanned, you can't avoid to think about such alternative social system with the pro and cons versus the western one.
Don't go there thinking to find everybody happy and fat; Cuba it's not the paradise but still far from being a hell; if you really want to compare the country with someother one, you should always do with its central american neighbours to whom Cuba has not that much to envy..
In short go there before it changes, because when it does, for sure it'll loose its charm.




Alby
TRAVEL IN CUBA
| | | | | | | |
| --- | --- | --- | --- | --- | --- | --- |
| Day | | Transport | Night | Price (1CUC=1,26€) | Duration | Notes |
| 1 | Milan- Havana | Flight | | 750€ (back and forth) | 11.5h | Direct flight Blu Panorama |
| 1 | Havana aiport- havana downtown | taxi | | 17CUC shared with others, otherwise 25CUC | | |
| 1,2 night | Havana | | Casa Particulares Mercedes Gonzales (Vedado) | 30CUC pp for a twin | | I reccomend the place (clean and friendly but the location it's too far from downtown) |
| 3 | Havana- Trinidad | Bus Viazul | | 50 CUC | | 5h |
| 3,4 night | Trinidad | | Casa Particulares | 25 CUC x double room | | |
| 4 | Trinidad- Valle de Los Ingenios- Trinidad | Steam Train | | 20 CUC pp | | two trains per day |
| 4 | Trinidad- Playa de Ancon- Trinidad | Taxi | | 10 CUC | | |
| 5 | Trinidad- Cienfuegos - Santa Clara | Bus Viazul | | 10 CUC | 1.5+ 3h | |
| Day | | Transport | Night | Price (1CUC=1,26€) | Duration | Notes |
| 5 night | Santa Clara | | | 25 CUC x double room | | |
| 6 | Santa Clara- Santa Maria | Taxi | | 40 CUC | | |
| 6,7,8 night | Santa Maria | | Sol Cayo Santa Maria | All inclusive 35CC pp per night | | |
| 6 | Santa Maria | Taxi | | | | |
| 8 | Santa Maria- Santa Clara- Havana | private taxi- shared taxi | | 40 CUC (private taxi) + 20 CUC pp (shared taxi) | | |
| 9,10 night | Havana | | | 25 CUC for a twin room | | |
| 9 | Havana- Las Terrazzas- Havana | Bus Viazul | | 24 CUC (back and forth) | | |
| 9 | Downtown to airport | taxi | | 25 CUC | | |
| 10 | Havana- Milan | Flight | | | | |

Thanks to a Milan- Havana direct fly we landed after 11hours directly in the capital, right in the middle of a thunderstorm. At the airport we arranged a taxi to downtown (17 CUC, sharing with other foreigners) to the friendly Casa particular Gonzales. Immediately Havana stroke me with his genuine 50's atmosphere: car, houses, people, sidecars, movie like setting, politic propaganda...everything as the time stopped when Fidel took to power in 1959.
Usually I'm not fan of the capitals and 1 day for me it's enough... but I've to admit that after 3 days in Havana we weren't fed up yet.
On top of it the safety is total and you can walk in the street in the heart of the night without any risk.
From Havana we tried to buy the train ticket to Santa Clara, but after one entire morning queuing at the station we gave up and jumped on the Viazul buses to Trinidad. 5h later we were pulling in the Cuban jewel: a very small town, characterized by cobblestone, colorful buildings, people living outside the houses.... Definitely the cutest place we have visited in Cuba. The day after we took a steam train (2 trains per day) to reach the Valle de Los Ingenios. It's a turistic stuff but at least an interesting way to visit the Cuban inland characterized by fazendas (former slave farm). In the late afternoon we reached Playa de Ancon (10min by taxi from Trinidad). I found the beach a convenient place to enjoy the Cuban sea in particular if you don't have your own mean of transport: the sand is white, it's very near the city, there'r facilities,... I found it much better than the resort in Cayo Santa Maria. A looong way from Santa Clara, perched in the middle of nothing, full of foreigner... in short a place where you'll feel in a cage having nothing to do with Cuba and the sea is not better than Playa de Ancon..
From Trinidad we went to Cientfuegos (1.5h by bus) where we spent the most of the day. Nice town, much bigger than Trinidad and without his charm, but still worth stopping by. From Cientfuegos we got to Santa Clara in 3h. the town is the least interesting among the one we have visited, but it's the symbol of the revolution (including the Ernest Guevara mausoleum) and you shouldn't miss the tobacco factory, where you can have a 2h guided tour.
We spent 2 boring days in Cayo Santa Maria (we can easily book it in any travel agency as Cubatour) and then we fle back to Havana by taxi to Santa Clara (40 CUC!) and shared taxi to the capital.
The last days we stayed in the beatiful Havana also visiting in a daytrip Las Terrazzas (2h by bus): it's an eco-village where 2.000 people live in the wildlife in a eco sustainable way (cultivating, recycling,...) you can have several walks in the forest, enjoy the lakes, some hot springs and a great vegetarian restaurant.


Alby
Cuba travel tip

Which is the best season in Cuba?

Insurance or not insurance?
---
EU citizens staying less than 90 days don't require a visa, but you'll need to buy a tarjeta turistica otherwise you will run the risk to be rejected at the check in at the departure, so ask to the air carrier you flight with about such tarjeta. In my case I got by the air carrier (BluPanorama) at the airport for 25€. Honestly I don't know what happens if you land in Cuba without the tarjeta, it might be you can buy there but I cannot assure you.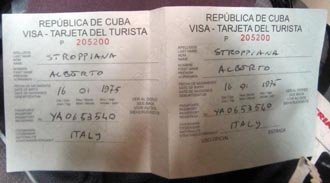 TARJETA DEL TURISTA - CUBA (2012)
Cuba has a double economy and here it comes the confusion: there are two currencies the CUBAN PESOS (CP) and the CONVERTIBLE CUBAN PESOS (CUC).
At the time of writing the rate was 1€= 1,26 CUC, April 2012, while the rate for cuban peso is fix with the CUC (1CUC= 25 CC).
Generally speaking the USD and CUC; CP have fix rate, but watch out,as countermeasure against the embargo, if you exchange USD you'll have to pay a 10USD mark up.
What can you buy with a CUC and what with CP?
In theory turists are supposed to pay only in CUC but nobody will stop you in exchanging CP and using them. Nevertheless I used very few times CP since practically all of the things you'll pay (casa particulares, Viazul buses, restaurants,....) are rated only in CUC (no Cuban will never be able to afford such luxuries!) While in CP you might pay taxis, tips, food at the stalls,.... you can use CUC also in these cases and it might be you'll get the change in CP.

I had the new version of the Cuba Lonley Planet 6th edtion of October 2011. The new layout is far friendlier than the old one, and the inserted map very useful.
I had the usual vaccinations: ephatite A, B, typhus and tetanus; there's no risk for malaria so you can avoid any profilassys
Which is the best season in Cuba?
November to February will be a little cold for having a swim, since the temperature might be around 15C. On the contrary July to August is the hurricane season and it's very humid, so it's better to skip it if you can. The best season is March to May and Sept to October.

Insurance or not insurance?
From May2010 health insurance is mandatory of every foreigner reaching Cuba, and you are supposed to show evidences to be covered by a company approved by the Cuban Government at the point of entry. In the net you will find several cases of people obliged to buy the insurance, but in my case, as most of the times happens, nobody ask me anything. My suggestion is don't do anything, at worst you'll do there.
If on the opposite you have already your insurance, bring with you the certificate, hoping it'll be among the ones accepted.