MACHU PICCHU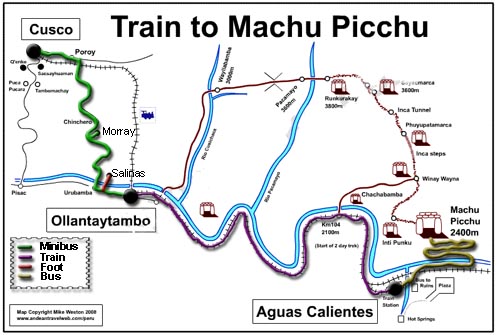 - How to reach Machu Picchu
The only way of getting to Machu Picchu other than on foot (Inca Trail), is by one of the frequent buses shuttling from Aguacaliente (20min).
Then the only way to reach Aguacaliente is by train (again unless walking the Inca Trail) leaving from the Poroy station of Cuzco (5h) or from the Ollantaytambo station (half way from Poroy and Aguacaliente) (3h). Generally from Ollantaytambo to Machu Picchu there are more trains and it's cheaper, on top of that you can conveniently end the Sacred Valley tour here, without returning to Cuzco: that's why the majority of the people get on the train here (on the way back it could makes more sense to do the whole way till Cuzco)
Reaching Ollantaytambo from Cuzco can take the whole day if you enjoy the Sacred Valley or it's just 1,5h by minibus from Cuzco
The station of Poroy (the nearest Cuzco towards Machu Picchu) is 30min by minibus from Cuzco.
- How to buy entry ticket and train ticket
Since July2011 there is limited daily number of people to access Machu Picchu so unless you want to risk popping up at the ticket counter at the entry gate in the morning and being rejected (especially in August), the only way is to buy tickets on line
http://www.machupicchu.gob.pe/
and print them. It may seem easy but we got mad to have the site working with the transaction (you pay by Verified Visa credit card).
As per the train ticket you can pop up at the station in Cuzco and buy them or buy on line as we did :
https://www.perurail.com/en/
, again be ready to get mad with the website
Most of the travellers do believe Perurail is the only train company operating, in reality there's also
http://www.incarail.com/
, from Ollantaytambo to Aguacalientes.
DON'T TAKE FOR GRANTED ON FINDING TRAIN TICKETS FOR THE FOLLOWING DAY!!